Click here for News archives: 2015, 2016
• March 12, 2017:
ORDINATION OF DEACON FATHER JAMES KALBASKY
On the second Sunday of the Great Fast (February 27, Old Style/ March 12, New Style), 2017, Subdeacon James Michael Kalbasky, from the parish of the Holy Nativity of the Theotokos in Portland, Oregon (the designated Cathedral Church of the Diocese of Etna and Portland), was ordained to the Diaconate during the Feast Day Liturgy of the St. Gregory Palamas Monastery, in Etna, California, by His Eminence, Bishop Auxentios, Ruling Bishop of the Diocese.
The newly ordained Deacon Father James holds a B.S. degree in Law Enforcement Administration from Youngstown State University. He also completed the Diploma in Orthodox Theological Studies at the Center for Traditionalist Orthodox Studies (C.T.O.S.), which he received with distinction.
In addition to his wife, Diakonissa Marianne, and daughter, Anna, and number of relatives and several families from the parish, Father Photios Cooper, Rector of the Holy Nativity of the Theotokos Church, to which Father James has been permanently assigned, attended the Ordination Liturgy, in which he took part. Also in attendance at the Ordination were His Eminence, Bishop Sergios, retired Bishop of the Portland Diocese, Archimandrite Patrick and Hierodeacon Moses from the Monastery of St. Gregory of Sinai, and His Eminence, Bishop Chrysostomos, retired Metropolitan of Etna. Metropolitan Chrysostomos also delivered a sermon on the monastery Feast Day, which appears below.
The Ordination was followed by a banquet for some forty-five attendants, held in the cafeteria dining hall of the St. Photios Orthodox Theological Seminary in Etna, the successor school to the C.T.O.S.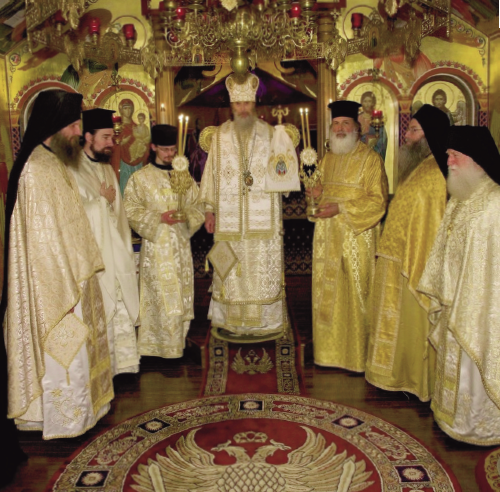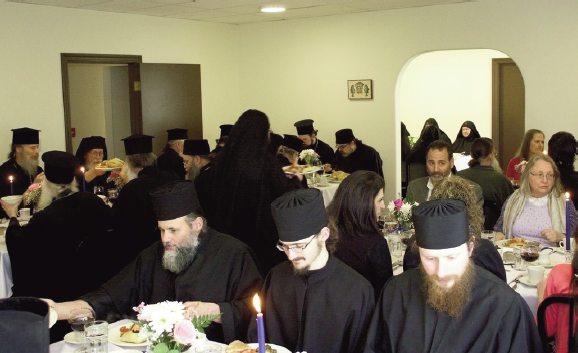 At left, fol­low­ing the Or­di­na­tion (left to right), Archi­man­drite Gre­go­ry, Father Pho­tios Coop­er, Hierodea­con Photii, Bish­op Aux­en­tios, Dea­con Father James Kal­basky, Archi­man­drite Pa­trick, Archi­man­drite Akakios; above, the Or­di­na­tion ban­quet at the Sem­i­nary.
A Sermon on the Feast Day of
St. Gregory Palamas

Great Lent 2017
by the Most Reverend Chrysostomos
Former Metropolitan of Etna
In the Name of the Father, the
Son, and the Holy Spir­it.
At the re­quest of His Emi­nence, Bish­op Aux­en­tios, I would like to say a few words about St. Gre­go­ry Pala­mas, whose mem­o­ry we cel­e­brate to­day and to whom our monastery is ded­i­cat­ed, and about the Or­di­na­tion that will oc­cur to­day.
I would like to be­gin my re­marks by con­grat­u­lat­ing His Emi­nence, our Rul­ing Bish­op (prop­er­ly and his­tor­i­cal­ly our "Metropoli­tan"); all the mem­bers of the broth­er­hood, and es­pe­cial­ly Archi­man­drite Gre­go­ry, who is cel­e­brat­ing his Name­day to­day; as well as Father Pho­tios Coop­er, the Rec­tor of the small parish in Port­land, Ore­gon, that serves as the Cathe­dral Church for the Dio­cese of Et­na and Port­land, who is cel­e­brat­ing the an­niver­sary of his Or­di­na­tion on this day. Χρόνια Πολλά! Many Years!
I would al­so like to con­grat­u­late Sub­dea­con James Kal­basky, whom His Emi­nence will or­dain to the first lev­el of the Apos­tolic Pri­est­hood, the Di­a­conate, lat­er this morn­ing in the Li­tur­gy. Sub­dea­con James is one of the finest stu­dents that we ev­er had in the for­mer the­o­log­i­cal pro­gram of the Cen­ter for Tra­di­tion­al­ist Ortho­dox Stud­ies, and he brings great joy to us by his ad­vance­ment in ec­cle­si­as­ti­cal ser­vice. By an­tic­i­pa­tion, I wish you—soon to be, by the Grace of God, Dea­con Father—James, and your wor­thy wife—soon to be Di­akonis­sa—Mar­i­anne ev­ery bless­ing. Ἄξιος!
I al­so wel­come all of our vis­i­tors, as His Emi­nence will do for­mal­ly at the Or­di­na­tion ban­quet lat­er this af­ter­noon, to our monas­tic com­mu­ni­ty, my spir­i­tu­al home in re­tire­ment, thank­ing you for your pres­ence on this aus­pi­cious oc­ca­sion for the monastery and for Sub­dea­con James. With un­bri­dled joy, I es­pe­cial­ly wel­come His Emi­nence, the Most Rev­erend Ser­gios, re­tired Bish­op of Port­land, Archi­man­drite Father Pa­trick, who will short­ly be en­throned as Ab­bot of our sis­ter in­sti­tu­tion, the Monastery of St. Gre­go­ry of Si­nai, in Kelseyville, Cal­i­for­nia, where Bish­op Ser­gios lives in re­tire­ment, and Hierodea­con Father Mos­es, a broth­er of the monastery. Last­ly, al­low me the lib­er­ty, which I know that he will grant me, of ex­tend­ing to all of you the bless­ing of the First Hier­ar­ch of the Amer­i­can Eparchy of our Church, Metropoli­tan Demetrios.
Metropoli­tan Cypri­an of Oro­pos and Phyle, who re­sides at the Monastery of Sts. Cypri­an and Justi­na in Phyle, Greece, of which this monastery is a μετόχιον, or de­pen­den­cy, is very fond of quot­ing what one might call the "mantra," if I may use that adopt­ed term in a whol­ly Chris­tian way, of St. Gre­go­ry Pala­mas: "Kύριε, φώτισόν μου τὸ σκότος!" or "Lord, en­light­en my dark­ness!" This was the Saint's con­stant im­plo­ration, and I would like to use it to in­tro­duce a few el­e­men­tary words about two lev­els of spir­i­tu­al life that St. Gre­go­ry, the four­teenth-cen­tu­ry Arch­bish­op of Thes­sa­loni­ki and one of the most em­i­nent the­olo­gians of the Ortho­dox Church, so per­fect­ly and per­spi­ca­cious­ly il­lu­mi­nat­ed for us: a lu­mi­nary shed­ding light on our dark­ness.
St. Gre­go­ry, born in­to a no­ble Byzan­tine fam­i­ly that pro­duced six oth­er monas­tic Saints, was a the­olo­gian and ge­nius who brought praise on him­self from the high­est rep­re­sen­ta­tives of the im­pe­ri­al court. Yet, he chose to serve God as a sim­ple monk, as an as­cetic, and even, for a short time, as a cave-dweller. He strug­gled, like all of us, to please God, to sub­mit him­self to the Church, and to come to know God through sin­cere be­lief. He in­ter­nal­ized, so as to con­form his mind and hu­man will to the whis­pers of God and to God's Will with­in his heart, his earth­ly life of ex­ter­nal obe­di­ence to, and love for, his fam­i­ly, his col­leagues, his monas­tic brethren, his coun­try, and his fel­low man.
In so do­ing, he sure­ly ap­proached God, ini­tial­ly, as we all do: through the veil of the flesh, with an­thro­po­mor­phic no­tions of Him. But he was not, it seems, bur­dened, as most of us are, by the doubts about God that the Evil One sows in us, prod­ding us, if not to un­be­lief, at least to the temp­ta­tion of grasp­ing God, Who cre­at­ed us, in the di­men­sions of our own cre­at­ed thoughts and delu­sions—those cre­at­ed by God cre­at­ing the Creator in their own im­age. He had the pro­found virtue of fear­ing God, which leads to lov­ing God. And since the love of God dis­pels doubt, He dis­cov­ered the God of Un­cre­at­ed Light, Who tran­scends, as the Fathers teach, all hu­man im­ages and con­cep­tions.
St. Gre­go­ry Pala­mas, again like all of us, had to con­tend with those who seek to make the Church an ex­ten­sion of their egos, en­dow­ing the in­sti­tu­tion of the Church with hu­man pas­sions: ar­ro­gance, both among the faith­ful and the cler­gy, jeal­ousy, re­sent­ments, pet­ti­ness, the bear­ing of grudges, the ha­tred of oth­ers in the name of Christ, tri­umphal­ism, and procla­ma­tions of per­son­al "pu­ri­ty" of con­fes­sion. (In­deed, what pu­ri­ty of Faith is there in any­thing that does not lead to love for our en­e­mies, for sin­ners, and even for heretics, whom we should pine with our whole soul to cure of their spir­i­tu­al ill­ness?) I am al­so sure that he saw those who, in their delu­sion and sick with sin, de­file the Church with their pas­sions and per­ver­sions, claim­ing to be holy. And like many of the Mar­tyrs and Saints, he un­der­went im­pris­on­ment, not just dur­ing his cap­ture by in­fi­dels, but al­so at the hands of the Church and the Byzan­tine "La­tiniz­ers," who de­spised him for his de­fense of Ortho­doxy.
In con­fronting all of these things at the low­er lev­el of spir­i­tu­al life, which are re­flect­ed in the in­sti­tu­tion­al im­per­fec­tions of the Spot­less Church, he taught us a won­der­ful les­son. He did not cry out with loud cries of righ­teous in­dig­na­tion; de­clare his pref­er­ence for death, in the face of an Ortho­doxy as­sailed by the forces coun­ter­ing it; or place his blame on those who, in all truth, were in­deed blame­wor­thy by their ac­tions for his per­se­cu­tion. Rather, turn­ing the blame and re­spon­si­bil­i­ty for all that be­fell him on him­self and con­demn­ing his own dark­ness (for the clos­er we come to God, the more we think our­selves sin­ful and, in this close­ness to the source of Love, for­give and em­brace those who do us ill), he in­ex­orably cried out: "Kύριε, φώτισόν μου τὸ σκότος!" "Lord, en­light­en my dark­ness!"
Hear­ing him, God poured forth the Un­cre­at­ed Light of His Be­ing on St. Gre­go­ry, who had sur­ren­dered his heart to God and his mind to spir­i­tu­al con­tem­pla­tion. The Saint's heart be­came a burn­ing flame, a lu­mi­nous torch of mys­ti­cal in­sight, and a repos­i­to­ry of wis­dom. This trans­formed him, those who fol­lowed him, and the world around him. God, the whol­ly in­ef­fa­ble God, Be­ing It­self, was re­vealed in the heart and pu­ri­fied mind and emo­tions of St. Gre­go­ry, such that he be­came one with the Divine En­er­gies of God. He was unit­ed by Grace to Christ, be­came a "small Je­sus Christ" with­in Je­sus Christ, and came to know in an un­know­able way the God Who is and is not, Whose "Is­ness" sur­pass­es our cat­e­gories of ex­is­tence and non-ex­is­tence, Who is Be­ing it­self, and Who re­veals Him­self to those whom He in­dwells with the deaf­en­ing thun­der of a spir­i­tu­al si­lence un­heed­ed by the world.
If, in this high­er spir­i­tu­al life, St. Gre­go­ry Pala­mas had a mot­to that is ev­ery­where present in his writ­ings and teach­ings, it would sure­ly be the af­fir­ma­tion that he made in ad­vice giv­en to a cer­tain nun: the af­fir­ma­tion that "Ζωὴ δέ ἐστι τῆς ψυχῆς, ἡ πρὸς τὸν Θεόν ἕνωσις, ὥσπερ καὶ τοῦ σώματος ἡ πρὸς ψυχήν ἕνωσις; that is, "The life of the soul is union with God, just as the life of the body is union with the soul." When we unite our bod­ies to our souls, and then our souls to God, this union with Love in God be­queaths to us a New Life and an in­ner vi­sion of things spir­i­tu­al that changes—I should say, whol­ly trans­forms—our un­der­stand­ing of God and the Church.
We no longer be­lieve in God, strug­gling with the im­ped­i­ments of the ar­ro­gant hu­man in­tel­lect, the pull of the pas­sions, or the heavy, de­press­ing weight of doubt; rather, we live with­in God, com­muning with His Divine En­er­gies, unit­ed by Grace with Christ, be­com­ing true in­her­i­tors and sons and daugh­ters of God. Tak­ing our ex­is­tence from with­in His Be­ing, we pass from be­liev­ing in God to find­ing the re­al­i­ty of our ex­is­tence in Him, em­brac­ing Him through Je­sus Christ, with Whom the Father is One, as our Father by adop­tion and the source of what we were tru­ly meant to be: per­fect ser­vants and chil­dren of our un­know­able Father, Whom we have seen in His Son, the Archetype of our own true na­ture.
The Church, in the lofti­er Life of Christ, is not just a gath­er­ing. It is not just a place where we wor­ship and ap­proach God. It not just a place of fel­low­ship. It is not just a place where our im­per­fect hu­man per­son­al­i­ties join with oth­ers to strive to­wards a knowl­edge of God. It is not that in­sti­tu­tion so be­set with hu­man foibles and pas­sions that even the Evil One finds a cor­ner in it from which to throw his darts and ar­rows. It be­comes, for those who are en­light­ened, the "house of God," sa­cred space, a "spir­i­tu­al worm­hole" from one realm to an­oth­er, and the place where we en­counter God in awe. It is for this rea­son that we make the Church splen­dorous and rich, since we match the finest and purest of what we have on earth with the in­ef­fa­ble, un­speak­able beau­ty that shines forth, in this sa­cred space, from God. What our hu­man ef­forts at beau­ty fail to pro­vide, God gives us by his Love and Grace.
In the high­er life of the Church, we are lift­ed up, trans­formed, bound to one an­oth­er, and pro­tect­ed and per­fect­ed by the Mys­ter­ies that are per­formed there. In the Church, we find the nu­cle­us of hu­man life: the source of all that we seek and need. We seal it off and re­move it, if we ful­ly un­der­stand it, from all that is "ev­ery­day" and com­mon. We be­come ine­bri­at­ed on its New Wine, which does not pol­lute the mind, but cleans­es the sens­es, pu­ri­fies the emo­tions, and brings us noet­ic joy and ex­ul­tant sen­ti­ments that burst forth in tears that flow over the soul like nec­tar over an al­ready ripened and sweet fruit. In the end, when we re­al­ize the full­ness of life that is con­tained with­in the Church, it is no longer a win­dow in­to an­oth­er world; it becomes a door from the an­techam­ber of our false life in­to true life. The in­sti­tu­tion of the Church fades as its essence shines forth with trans­form­ing beams of light.
St. Gre­go­ry Pala­mas, there­fore, brings to­geth­er our earth­ly life with eter­nal life. If we heed him, we re­joice where we are: monas­tics danc­ing with joy at what they taste and what they will one day, in the oth­er life—which has al­ready in­vad­ed this life—feast up­on, the lay peo­ple join­ing them in this dance. St. Gre­go­ry brings life and af­ter­life to­geth­er in Christ; he takes us from strug­gle to tri­umph, and he gives us a glimpse, even in this life, of what awaits us in the re­turn to our True Home and our True Father.
Let me fi­nal­ly say to Sub­dea­con James, whose soul is preg­nant, at this mo­ment, with the Pri­est­hood, that he, like all but the very best of us, will serve in the Pri­est­hood by oikono­mia, bur­dened by im­per­fec­tions and past sins. In know­ing so and feel­ing this pain, I urge him to call out to God for for­give­ness. If he will do this un­til his last breath, God will, in the course of his strug­gles, grant him, from time to time, by virtue of the Grace of Pri­est­hood, a high­er vi­sion and an ex­pe­ri­ence of high­er things. Hold on firm­ly to your gift, at such mo­ments, and mov­ing from a plea for for­give­ness, thank God with tears for the gift of union with Him in your in­ner man, touched by God's Grace. Like St. Gre­go­ry Pala­mas, who passed from plead­ing for light to shin­ing forth with light, as those who saw and knew him in his time at­test, you will find great com­fort and hon­or in the Saint whom we to­day hon­or and who will, with­out doubt, bless your Or­di­na­tion.
Bοηθειά μας ὁ Ἅγιος Γρηγόριος ὁ Παλαμᾶς. May St. Gre­go­ry Pala­mas come to our aid.


____ ____
• January 12, 2017:
Photographs of the Elevation of Archimandrite Patrick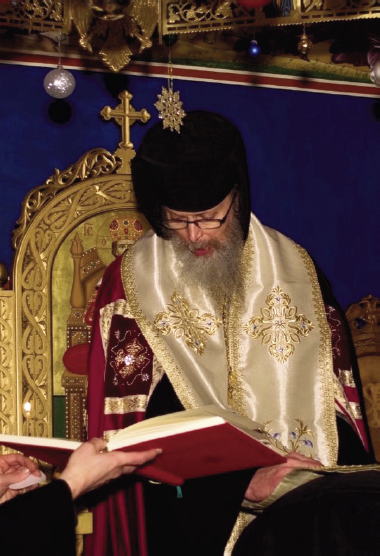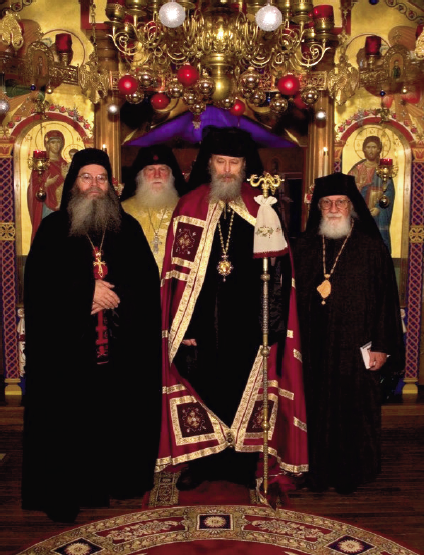 Left, His Eminence, Bishop Auxentios; right, (left to right) Archimandrite Patrick,
Archimandrite Akakios, Bishop Auxentios and Bishop Sergios.
____ ____
• January 12, 2017:
Retirement of His Eminence, the Most Reverend Sergios, Bishop
Emeritus of Portland, from the Office of Abbot of the Monastery
of St. Gregory of Sinai, in Kelseyville, California, and the
Elevation of Hieromonk Patrick to the Rank of
Archimandrite and Appointment as Abbot
Designate of the Monastery
Much to the re­gret of the rul­ing Bish­op, cler­gy, and faith­ful of the Dio­cese of Et­na and Port­land, on Novem­ber 28 (Old Style)/De­cem­ber 11 (New Style), 2016, His Emi­nence, the Most Rev­erend Ser­gios, emer­i­tus Bish­op of Port­land, tenured his res­ig­na­tion as Ab­bot of the Monastery of St. Gre­go­ry of Si­nai in Kelseyville, Cal­i­for­nia. Cit­ing age-re­lat­ed is­sues, Bish­op-Ab­bot Ser­gios, 75, is re­tir­ing af­ter thir­ty-three years of serv­ing the broth­er­hood, which grew from a small broth­er­hood of two, first es­tab­lished in Brighton, MA, to its present vi­brant broth­er­hood of sev­en monks in the moun­tains of North­ern Cal­i­for­nia. The Brother­hood lives an es­sen­tial­ly Athonite monas­tic life, en­gaged in iconog­ra­phy and oth­er monas­tic hand­i­crafts, while at the same time serv­ing the dio­cese in a mis­sion­ary ca­pac­i­ty.
His Emi­nence, a grad­u­ate of the Univer­si­ty of Con­necti­cut, Ford­ham Univer­si­ty, and St. Vladimir's The­o­log­i­cal Sem­i­nary, was, like our own Bish­op Aux­en­tios, a stu­dent of the renowned Rus­sian the­olo­gian, Father Ge­orges Florovsky. He was or­dained a Pri­est in the Ortho­dox Church in Amer­i­ca (OCA) in 1969, there­after spend­ing a year at the Monastery of St. John the Fore­run­ner, in Es­sex, Eng­land, and an­oth­er year at the Si­monope­tra Monastery on Mt. Athos. He re­turned to the U.S., where he served with dis­tinc­tion at var­i­ous OCA parish­es un­til 2000, when, con­flict­ed by the cal­en­dar re­form and Ortho­dox in­volve­ment in the ec­u­meni­cal move­ment, he re­turned to the Old Cal­en­dar, and in 2004 was con­se­crat­ed to the Epis­co­pa­cy.
In 2011, His Emi­nence was re­ceived in­to the Church of the Gen­uine Ortho­dox Chris­tians of Greece. Two years lat­er he was ap­point­ed Bish­op of Port­land, re­tir­ing from his See in 2015. In re­tire­ment, he re­sides at the monastery which he helped found, where he will con­tin­ue to live as its first and for­mer Ab­bot. Hav­ing taught pre­vi­ous­ly at the Univer­si­ty of Alas­ka South­east, Bish­op Ser­gios is a Pro­fes­sor of The­ol­o­gy and Church His­to­ry at the St. Pho­tios Ortho­dox The­o­log­i­cal Sem­i­nary in Et­na, CA. In ad­di­tion to con­tin­u­ing his schol­ar­ly ac­tiv­i­ties, he serves as a vi­tal and in­dis­pens­able ad­vi­sor to the Bish­op and Dio­cese of Et­na and Port­land.
At Bish­op Ser­gios' re­tire­ment, the broth­er­hood of the Monastery of St. Gre­go­ry of Si­nai elect­ed, as his suc­ces­sor, the co-founder of the monastery, Hieromonk Pa­trick, 59, who has been a con­stant dis­ci­ple and helper to his Elder. Thus, on De­cem­ber 30, 2016 (Old Style)/Jan­uary 12, 2017 (New Style), His Emi­nence, Bish­op Aux­en­tios el­e­vat­ed Father Pa­trick to the rank of Archi­man­drite at the St. Gre­go­ry Pala­mas Monastery, of­fi­cial­ly ap­point­ing him Ab­bot of the St. Gre­go­ry of Si­nai Monastery. The Ab­bot-­elect will be en­throned on March 25, 2017 (New Style) at the Kelseyville monastery.
Archi­man­drite Pa­trick is a grad­u­ate of the Rhode Is­land School of De­sign, the pre­mier col­lege of art and de­sign in the Unit­ed States. A stu­dent of Leonid Ous­pen­sky, he is an ac­com­plished and well-known icono­g­ra­pher. He is al­so the au­thor of the pop­u­lar work, Re­cov­er­ing the Icon: The Life and Works of Leonid Ous­pen­sky (by Pa­trick Doolan), pub­lished by St. Vladimir's Sem­i­nary Press. Father Pa­trick has taught and lec­tured on Iconog­ra­phy at the Roe­hamp­ton Art In­sti­tute in Eng­land, the Valamo Acade­my in Fin­land, and the Pa­tri­arch Athenago­ras Ortho­dox In­sti­tute at the Grad­u­ate The­o­log­i­cal Union in Berke­ley. He was re­cent­ly ap­point­ed a Lec­tur­er in Iconog­ra­phy at the St. Pho­tios Ortho­dox The­o­log­i­cal Sem­i­nary.
We wish Bish­op Ser­gios "Many Years" and Archi­man­drite Pa­trick a long, re­ward­ing, and spir­i­tu­al­ly fruit­ful Ab­ba­cy.


____ ____