Monastic Communities in the Diocese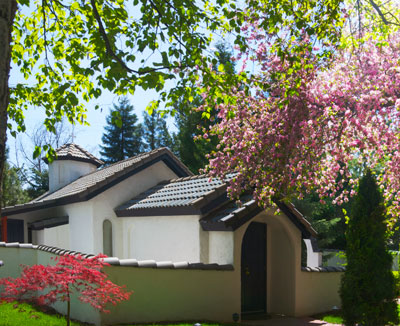 Top, Chapel of the St. Gregory Pa­la­mas Monastery; below, the Fathers.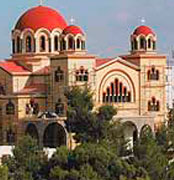 Above, Monastery of Sts. Cyprian and Justina, Mother House of the St. Gregory Palamas Monastery.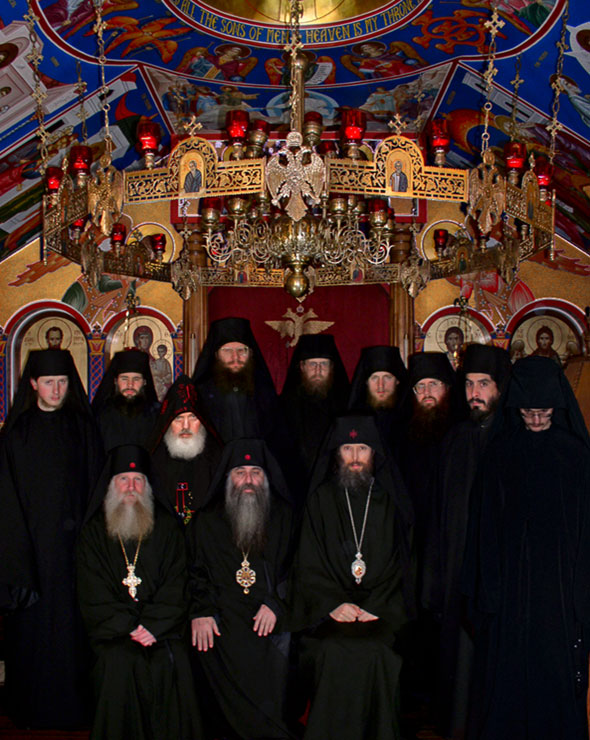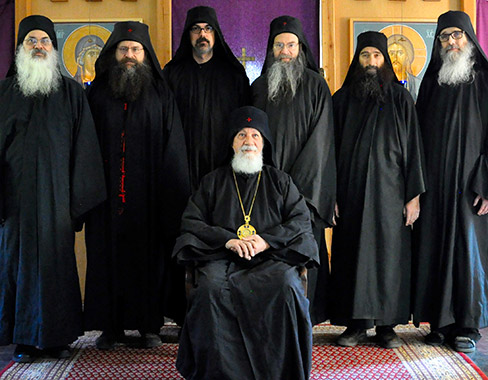 At left, the broth­er­hood of the Monastery of St. Gre­go­ry of Si­nai.

•

Below, the Cha­pel of the Con­vent of St. E­li­za­beth the Grand Duchess of Rus­sia and the sis­ter­hood, to­ge­ther with the mar­ried Priest who serves the convent.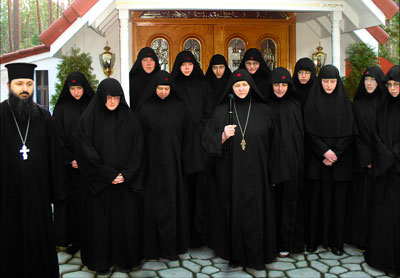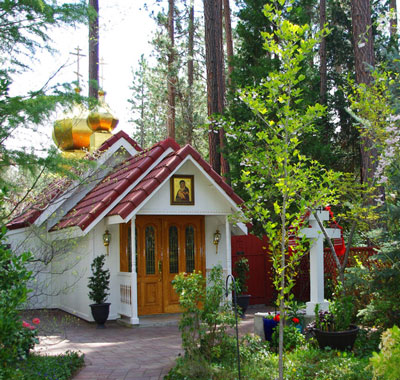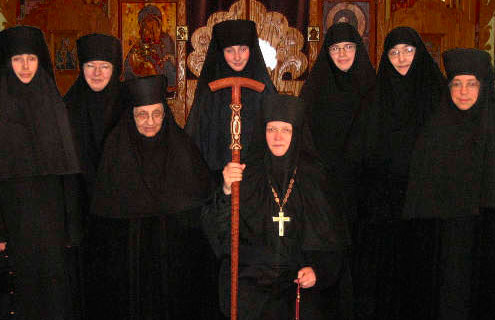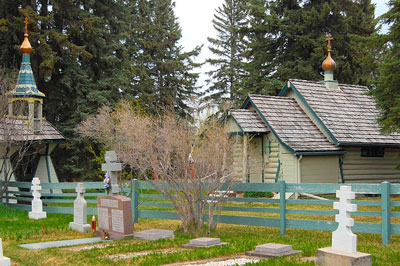 Above, Cemetery Church and sisterhood of the historic Protection Convent.
• St. Gregory Palamas Monastery (SGPM)

(Center for Traditionalist Orthodox Studies [CTOS])

P.O. Box 398

1307 Sawyers Bar Rd.

Etna, California 96027-0398

Abbot: Archimandrite Father Akakios

Tel: (530) 467-3228

The SGPM is a dependency of the Holy Monastery

of Sts. Cyprian and Justina, in Phyle (Athens), Greece

Website: http://www.ctosonline.org

Community members: 12 in residence,

3 assigned elsewhere; 3 reposed


• Monastery of Saint Gregory of Sinai

Loch Lomond, California

Saint Gregory of Sinai Monastery

8252 Harrington Flat Road

Kelseyville, CA 95451

Abbot: His Eminence,

Bishop Sergios

Tel: (707) 279-0488

Website: http://www.gsinai.com

Community members:

7 in residence


• Convent of St. Elizabeth the

Grand Duchess of Russia

P.O. Box 126

225 Forest Walk

Etna, California 96027

Abbess: Mother Elizabeth

Serving Priest: Presbyter Father George

Mavromatis

Tel. (530) 467-5625

Website: http://www.conventofsaintelizabeth.org

Community members: 13 in residence; 2 reposed


• Protection of the Holy Virgin Mary Convent

RR #2, Bluffton, Alberta,

T0C 0M0 Canada

Abbess: Mother Amvrosia

Serving Priest: Protosindjel

Father Dionisije

Tel: (403) 843-6401

Community members: 7 in residence,

2 reposed

Total number of Monastics
in the Diocese: 42
____ ____